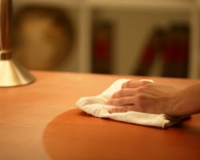 Soho offers a variety of cleaning services providers, but we are proud to tell you that we are the most wanted cleaning agency in the area! We have thousands of cleaning hours behind our backs and a big family of satisfied customers! For example, our end of tenancy cleaning service is the hottest on the market, because of its high quality, impressive results and reasonably low prices! Our professional cleaners are the best in Soho and have years of experience in cleaning and no criminal records!
They use specialised equipment and nature-friendly cleaning products to allow them achieve amazing results every time! Our end of tenancy cleaning includes a thorough cleaning of every inch of your rented property and a guarantee of 48 hours for the service! To top all that, we promise you that we will get the full refund of your deposit money for you!

End of Tenancy Cleaning in Soho
Prices
Studio flat

£

79

One Bedroom Property

£

125

Two Bedroom Property

£

145

Three Bedroom Property

£

167
If you choose to book our end of tenancy cleaning in Soho you will definitely not regret it, because you'll end up with perfectly clean rented property, a handful of deposit money and a happy landlord! Book an appointment with us to find out that our words mean nothing, compared to our actions!
Using end of tenancy cleaning services is a must when you are moving in or out from a property. These services became one of the most popular cleaning solutions in the city.
This is the only way to ensure that the property you are leaving is professionally cleaned. Our end of tenancy cleaning is done by following strictly procedures. The prices we charge are very affordable and one of the most competitive in the industry.
In addition to end of tenancy cleaning we also offer other services that include: steam cleaning of carpets, cleaning of commercial and residential buildings as well as upholstery cleaning. All this is done by a dedicated team of experienced cleaners, whose main aim is to make sure that quality cleaning is provided.
We know that changing your home can be difficult, because of all the memories. However, we are the ones that can make you smile for at least one thing – a perfectly cleaned rented place! If you are in a position of changing your home, you probably know that you should clean it before you leave. For those of you, who don't have the time or lack the desire to engage in cleaning the whole place on their own – we offer the highest quality of end of tenancy cleaning in Soho!
We will make sure radiators are clean, shelves are dusted, carpets are spotless, windows look perfect, kitchen is more clean than ever! We will make sure the whole place is cleaned from bottom to top with the help of our professional cleaners, who always give their best in the cleaning procedures! Because we know how important it is for you to receive the full refund of your deposit, we don't make mistakes, we always provide excellent results!
Our service is available for every person in Soho, who needs professional end of tenancy cleaning! Contact us and give us the reason to make you smile!
There are several tasks that are always carried out when we perform The End of Tenancy. These services include:
Cleaning of the floors
Cleaning of kitchens and the walls
Cleaning of sanitation facilities like toilets
Cleaning of bathrooms and their accessories
Making sure tiles are sparkling clean and well maintained
Cleaning and drying of carpets using various methods
Interior and exterior cleaning of drawers, cupboard and shelves
Wiping the interior and exterior of various home appliances like refrigerator, ovens, washing machines and microwaves
Many people in the real estate sector including tenants, landlords and agents that leave a house or move in to a new one use for professional cleaning services. Our end of tenancy cleaning solutions are designed in such a way that you receive a top quality cleaning service for the most competitive price in London.
One thing that many property owners and estate agents insist is that you must leave the house as clean as possible while moving out. Without doing this, you might not get the deposit you paid while moving in.
Therefore, when switching homes you need to contract our cleaning services so that all your property as well as the house you were living in is thoroughly cleaned. We have a dedicated team of cleaners who will follow all the instructions you give as far as handling of the house is concerned.